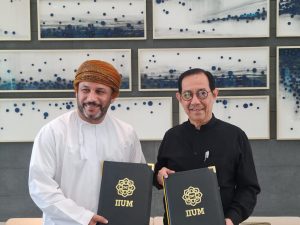 A Memorandum of Understanding ceremony between IIUM through Office of Industrial Link (OIL), IIUM & Lean Development & Sustainability (LeaDS) Office, Kulliyyah of Engineering was held on 28th February 2023. The MoU was signed between Prof. Emeritus Tan Sri Dato Dzulkifli Abdul Razak, Rector of IIUM and Dr. Khalfan Al Rawahi, Chairman cum Founder of Al Rashid Business & Academy, witnessed by R V Murali, Director of International Relations.
This MoU is an initiative to outline the framework and areas of cooperation that have mutual interests and benefits for both parties. In addition, under this MoU, cooperation is facilitated in providing expertise, manpower, logistics, information, and support required for each other.
It is hoped that through this collaboration, it will further strengthen the departments and centers involved.