MAQASID SHARIAH FOR ENGINEERS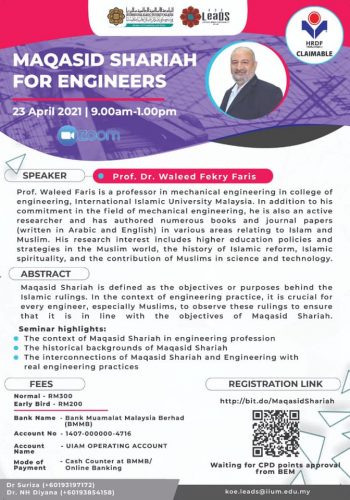 Assalamualaikum W.B.T.,
With great pleasure, Lean Development and Sustainability Office (LeaDS), Kulliyyah of Engineering would like to invite you to participate in the seminar as followings:"MAQASID SHARIAH FOR ENGINEERS" delivered by Prof. Dr. Waleed Fekry Faris.
Date: 23rd April 2021
Time: 9.00am-1.00pm
Platform: ZOOM
Who should attend?
Anybody who would like to know and apply Maqasid Shariah in the engineering profession
Normal fee is RM300 and Early Bird gets RM200 only (register before 18th April 2021)10% of introducer fee will be given to anyone who successfully brings each non-IIUM registered participant.
This half day session will cover the context of Maqasid Shariah in engineering profession, historical backgrounds Maqasid Shariah and the interconnections of Maqasid Shariah and Engineering with real engineering practices.
Organised by,
LEAN DEVELOPMENT AND SUSTAINABILITY OFFICE (LeaDS) IIUM in collaboration with BEM
Contact person: Dr. NH Diyana (+60193854158) & Dr. Suriza (+6019-3197172)
Email: koe.leads@iium.edu.my