Welcome to AMTech
Advanced Manufacturing and Materials Technology Research Unit (AMTech) covers, but not limited to the following area of research and consultancies:Additive Manufacturing, Advance Materilas, Materials Removal Processes, Forming Processes, Casting and Joining, Precision Engineering, Nanotechnology, Computer Aided Engineering, Manufacturing Control System, Environmental Issues and Management in Manufacturing, Value Analysis and Value Engineering, Manufacturing Strategy and Costing.
Chairman of AMTech Ts. Dr. Nor Aiman Sukindar
Research Interest
Additive Manufacturing, Advanced Materials, Advanced Fields of CAD/CAM, Ergonomic, Finite Element Modeling of Manufacturing Process, Flexible Manufacturing, Robotics and CIM, High Speed Machining, Machine Tools, Metal Cutting Processes, Micro Machining, Non-traditional Machining, Production Technology, Tool Design, Tool Production and Tool Wear Modeling
Our Services
We offer following services to meet your demand:
TRAINING/WORKSHOP
Learn how quality can skyrocket your organization's product performance and productivity and cash flow, and reduce costs and lead time—while keeping you focused on your career in manufacturing.
RESEARCH COLLABORATION
Within academia, various terms are used to refer to research collaboration (RC), including co-authorship, research networking, joint research and research partnership. It is widely accepted that collaboration in research across disciplines, between young and more senior researchers and with practitioners is critical to the career of novice researchers.
CONSULTANCY
With experts drawn from more than 15 experts in our department, our consulting projects range from individual academics providing advice to solve a specific problem through to multidisciplinary teams working with clients and third parties to solve complex multifaceted problems.
COMMUNITY SERVICES
Why is Community Service Important? We've found that students benefit greatly—both academically and emotionally—from volunteering their time to make the community and world a better place. That's why our students very actively involved in this activity. No act of kindness is ever wasted. -Aesop
3D Printing Services
AMTech is now open for 3D Printing service. The aim is to expose our Research Unit expertise under the MME department to other departments and kulliyyah and also to provide a platform to MME students for hands-on learning and training.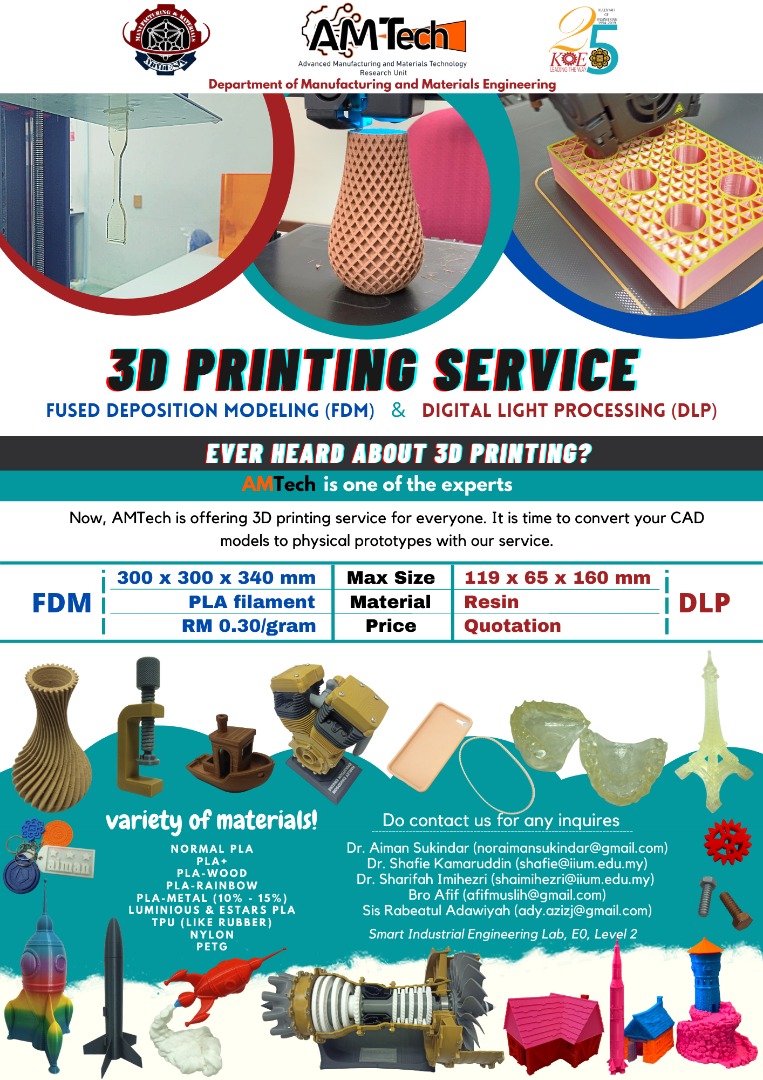 Our Team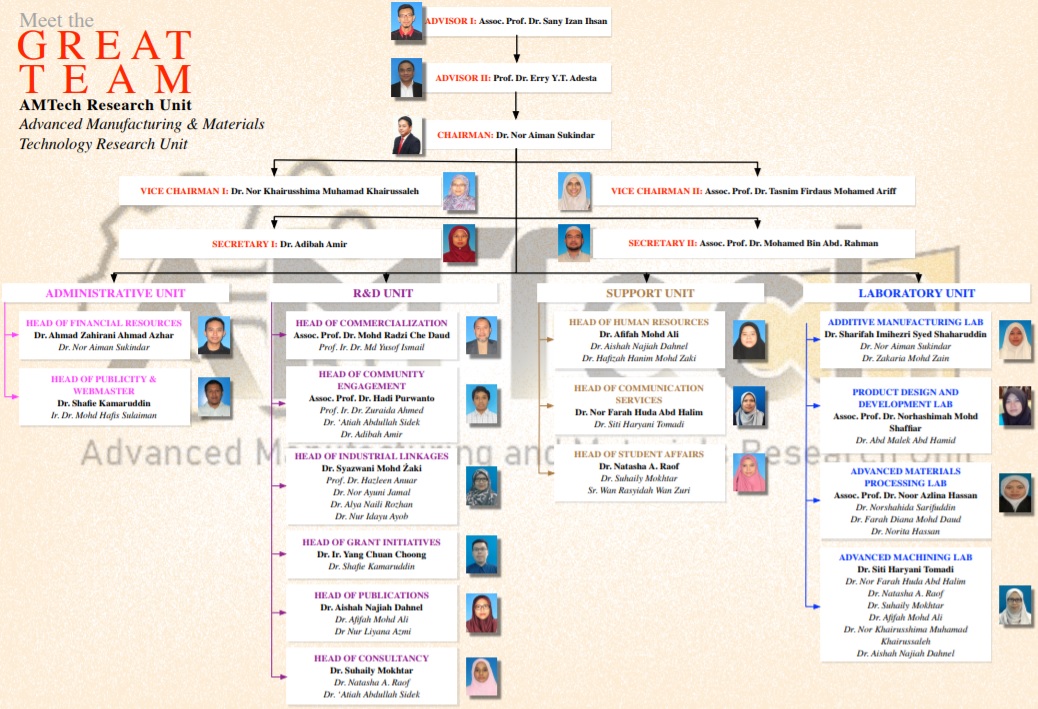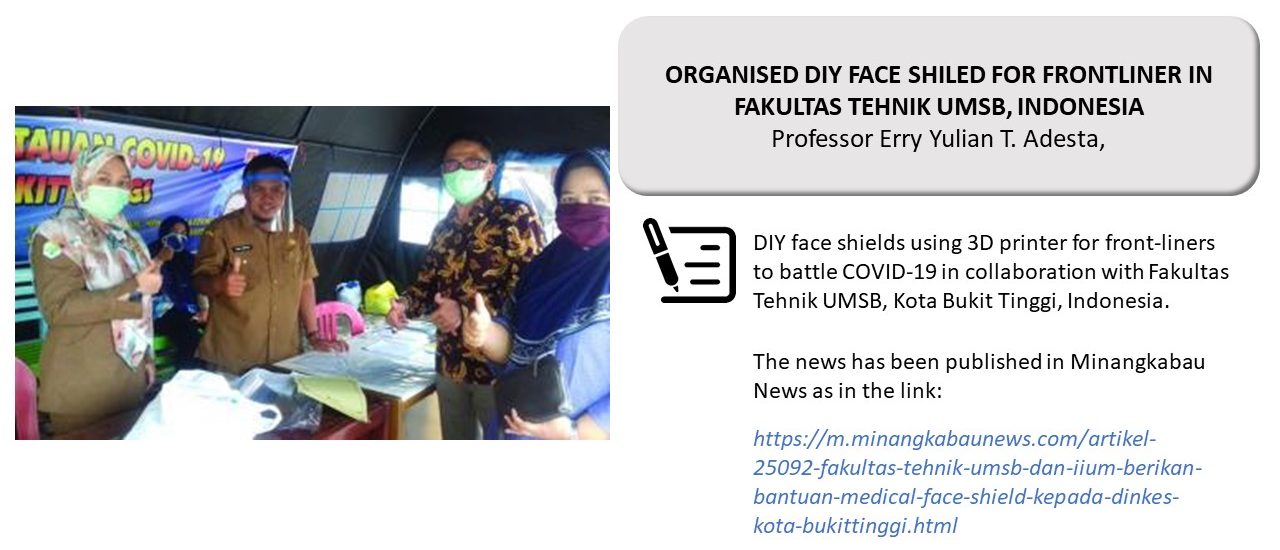 Latest Events
Latest events by AMTech Research Unit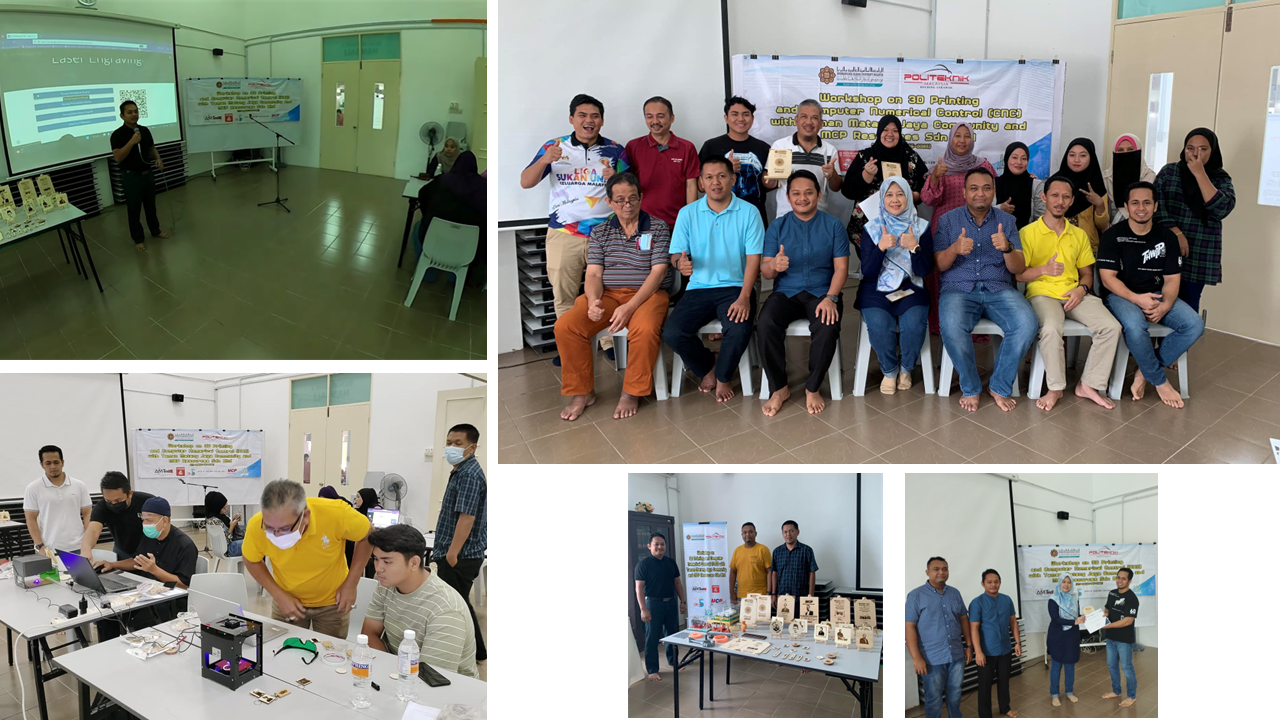 Transferring Knowledge and Skills to Taman Matang Jaya Community Kuching Sarawak, 24-26 Feb 2023- (Laser Engraver).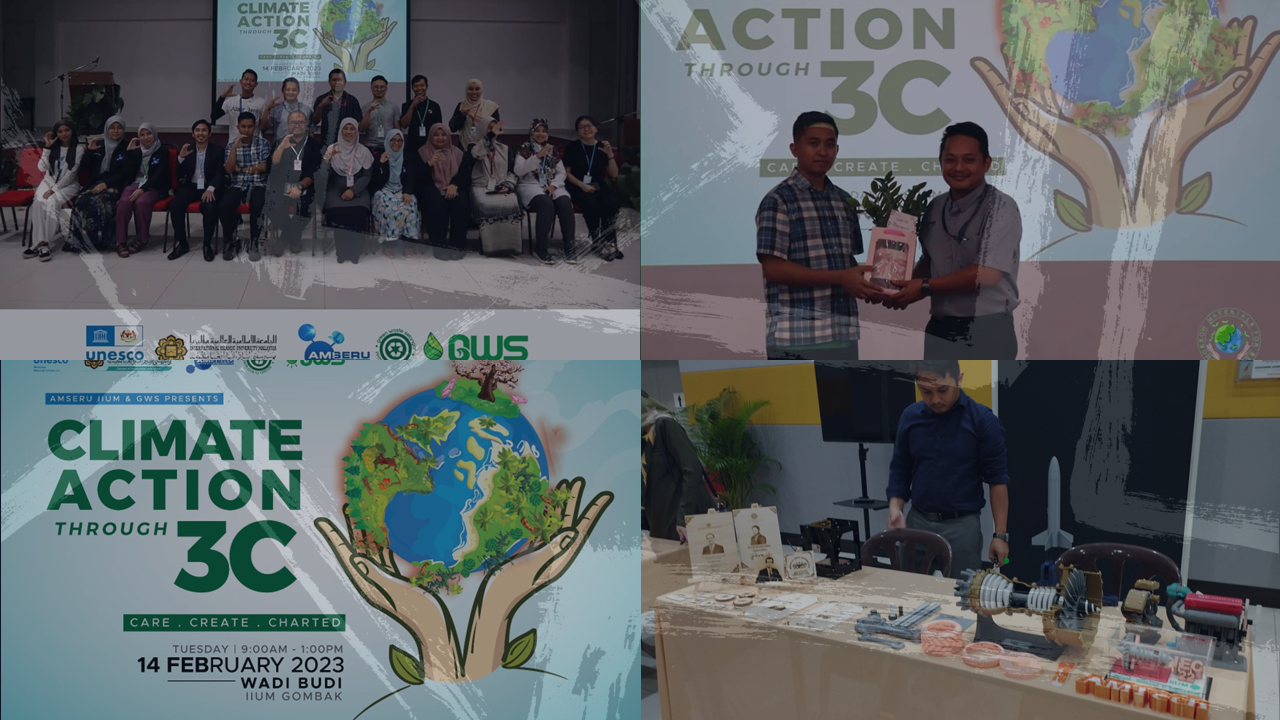 AMTech Booth in conjunction with "Climate Action Through 3C: Care, Create, Charted Program"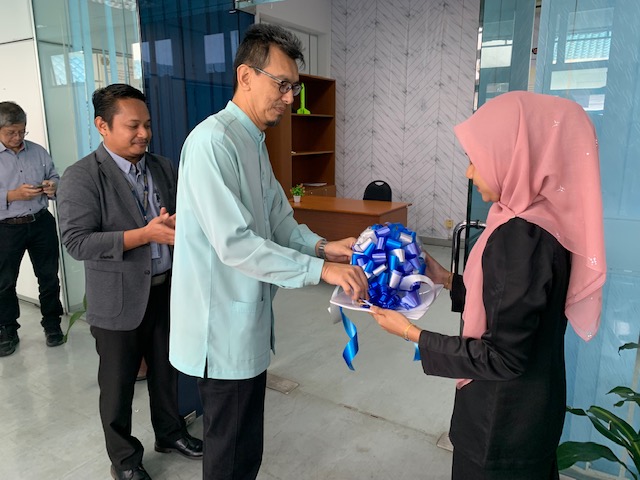 AMTech'S OFFICE OPENING CEREMONY and Smart Farming Project
Date/Day : 13 January 2023 (Friday)
Time : 9.00 am-10.00 am
Venue : E0, Level 4, Kulliyyah of Engineering.
Invited Guests:
1. Dr. Ahmad Zahirani Ahmad Azhar (Head of Department MME)
2. Associate Professor Dr. Sany Izan Ihsan (Dean, KOE)
3. Prof. Dr. Meftah Hrairi (HOR, KOE)
4. Dr. Noor Azizah Mohamadal (Principal Mahallah Aminah)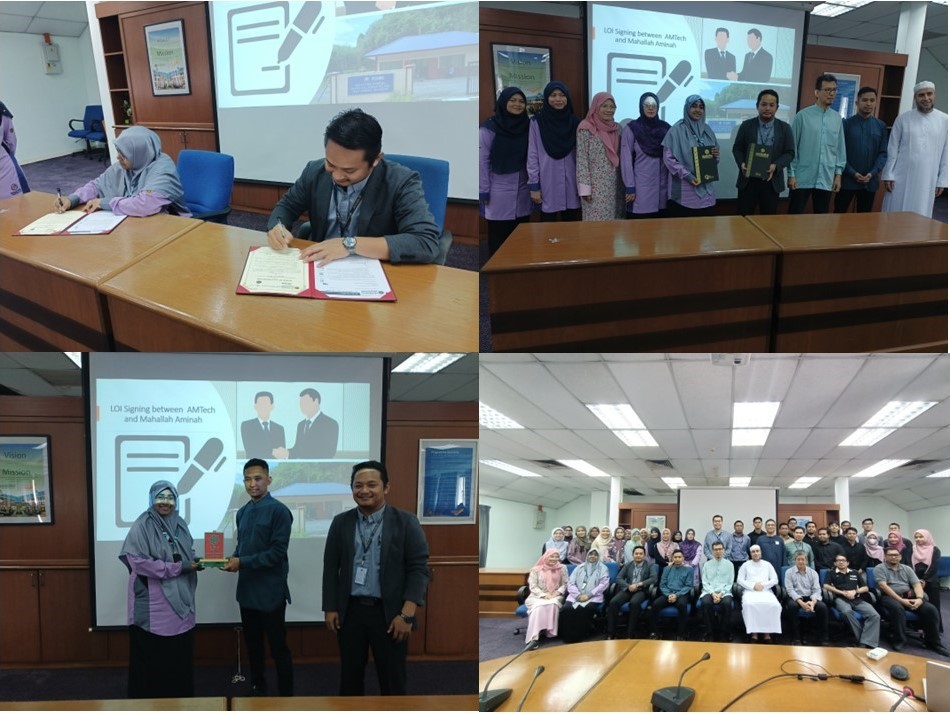 LOI between AMTech and Mahallah Aminah.
Collaboration in Symbiotic System of Fish and Vegetables Farming Project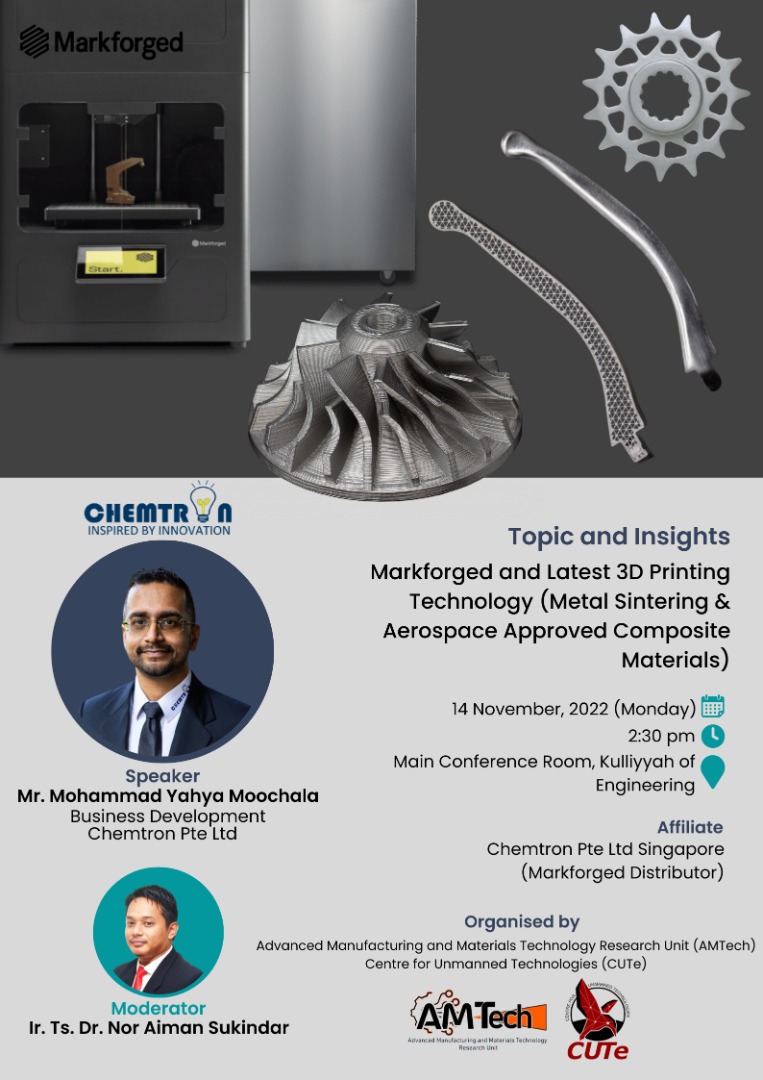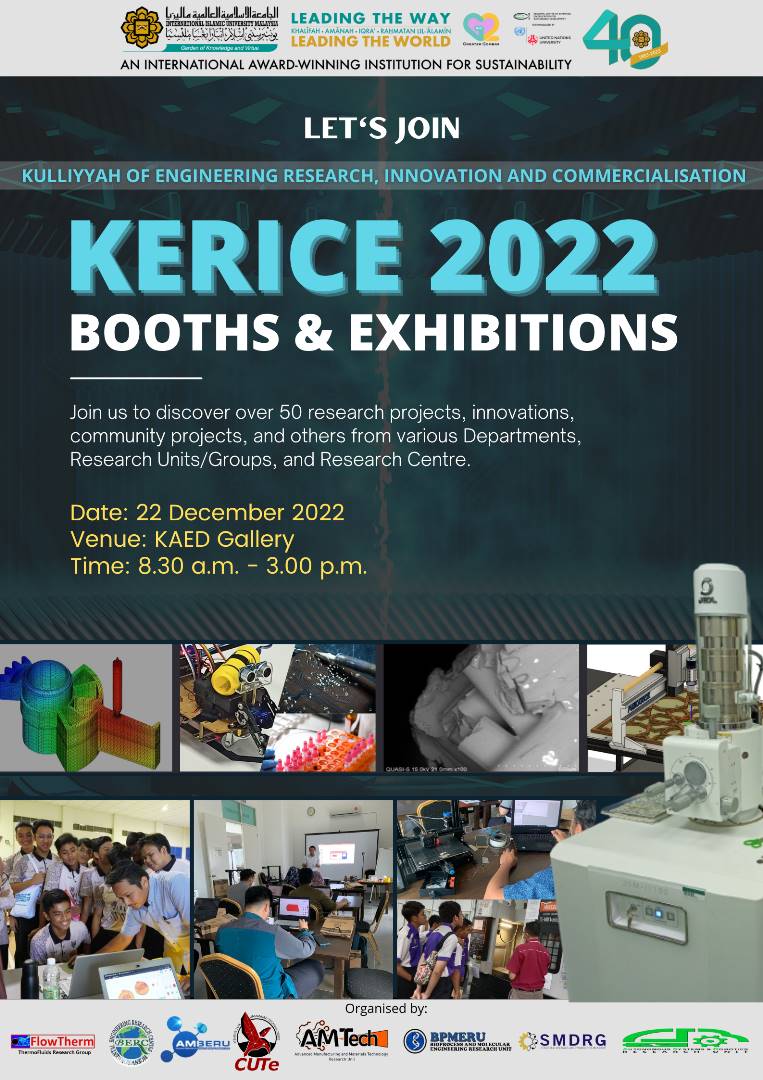 KERICE 2022 BOOTHS & EXHIBITIONS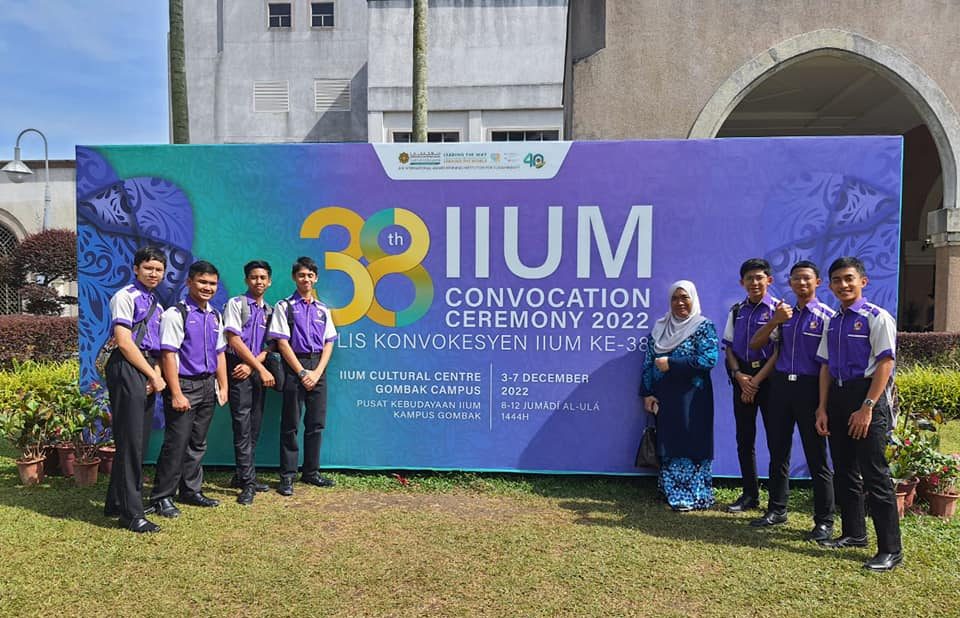 SBPI Gombak Visit to Kuliyyah of Engineering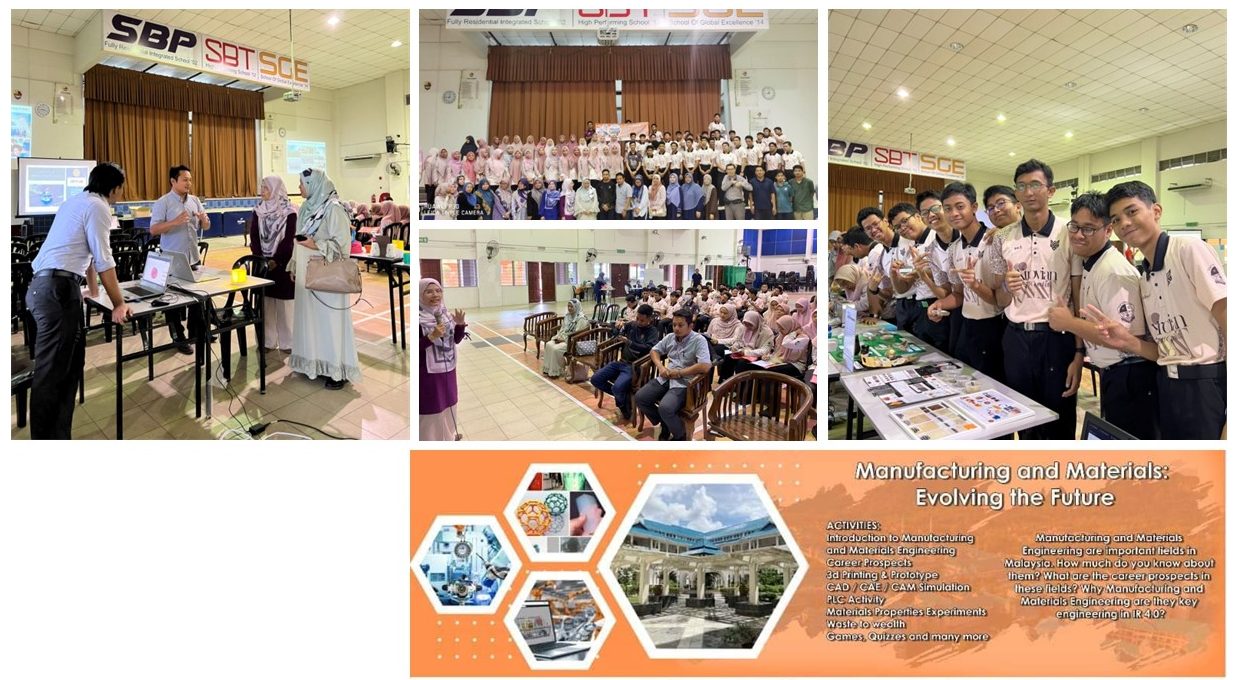 Community Outreach Project at SBP Integrasi Gombak. Organised By AMTech Research Unit, MME Department,KOE.
Manufacturing and Materials: Evolving the Future.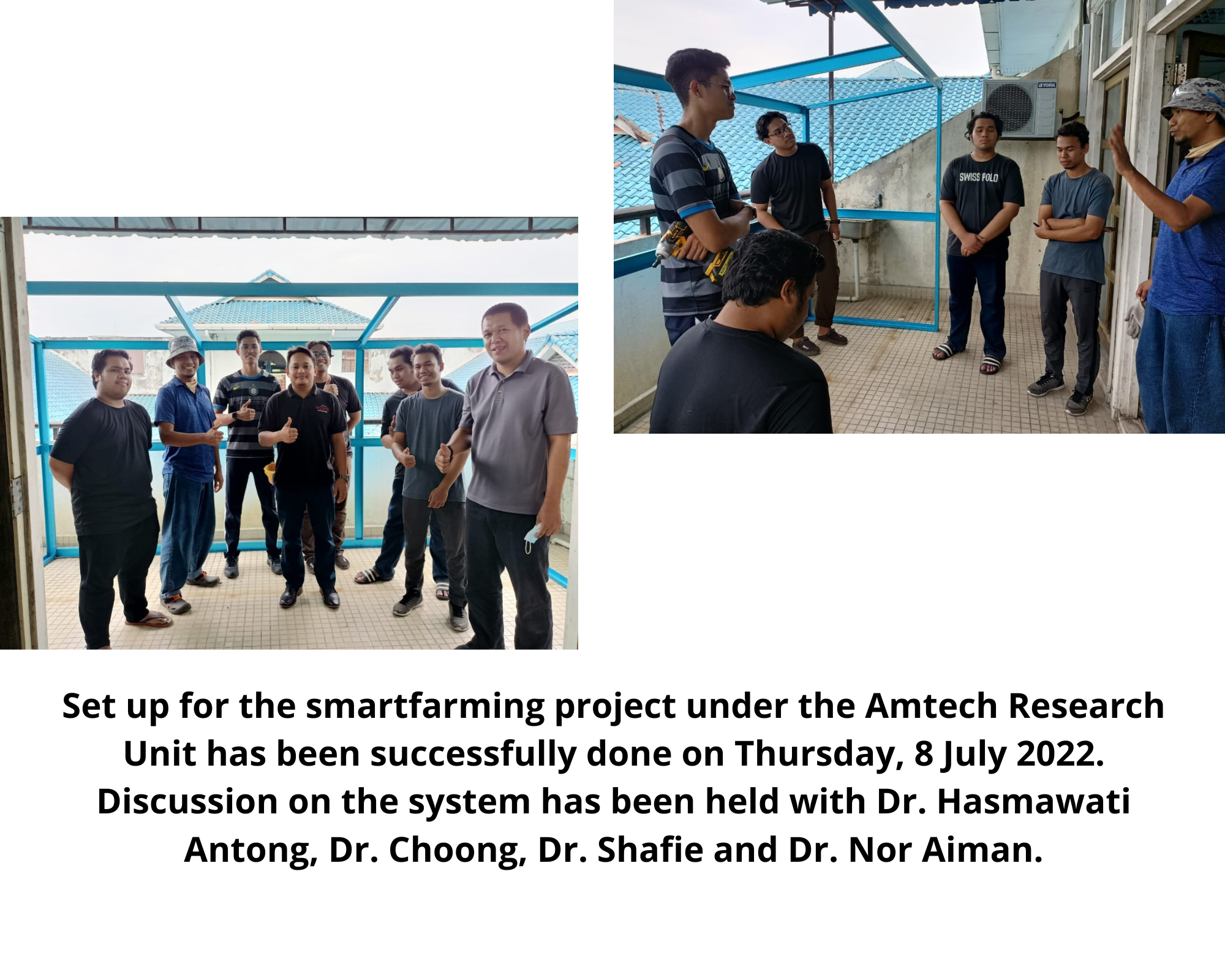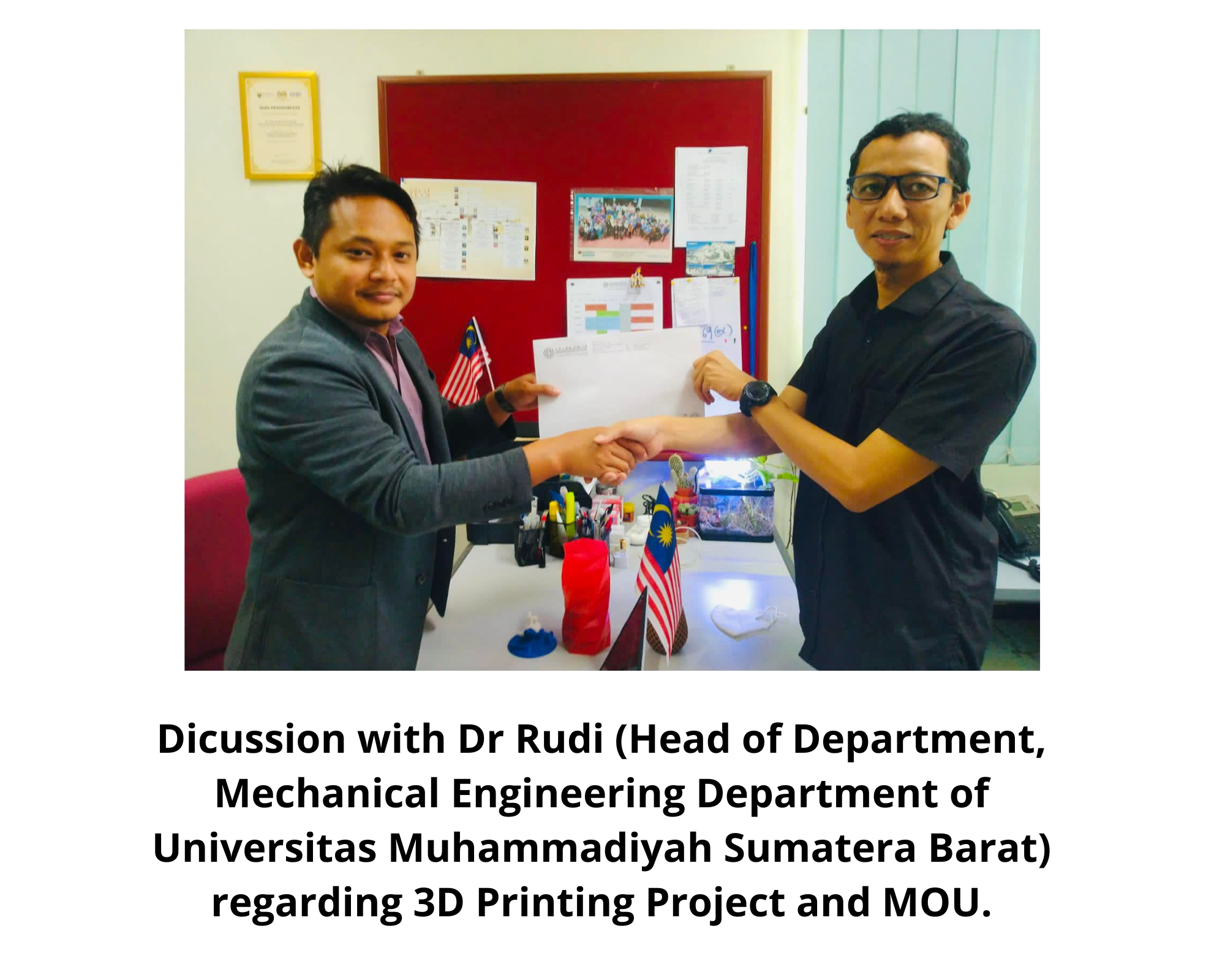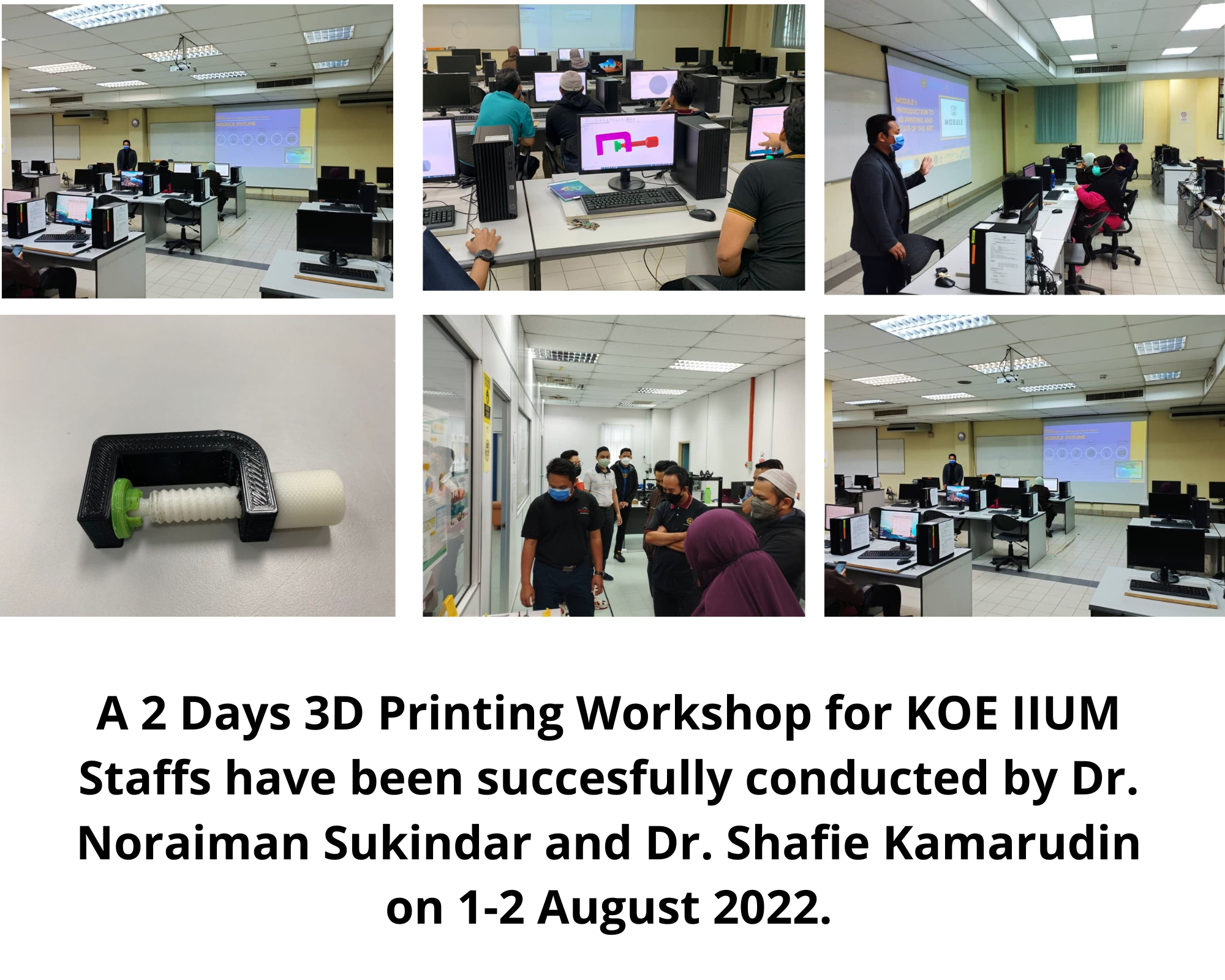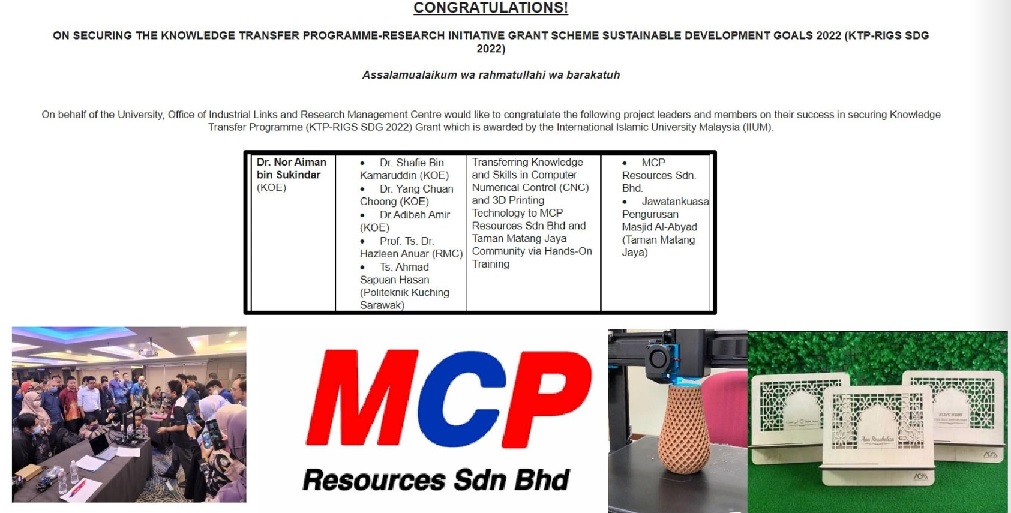 Securing the KNOWLEDGE TRANSFER PROGRAMME-RESEARCH INITIATIVE GRANT SCHEME SUSTAINABLE DEVELOPMENT GOALS (KTP-RIGS SDG 2022).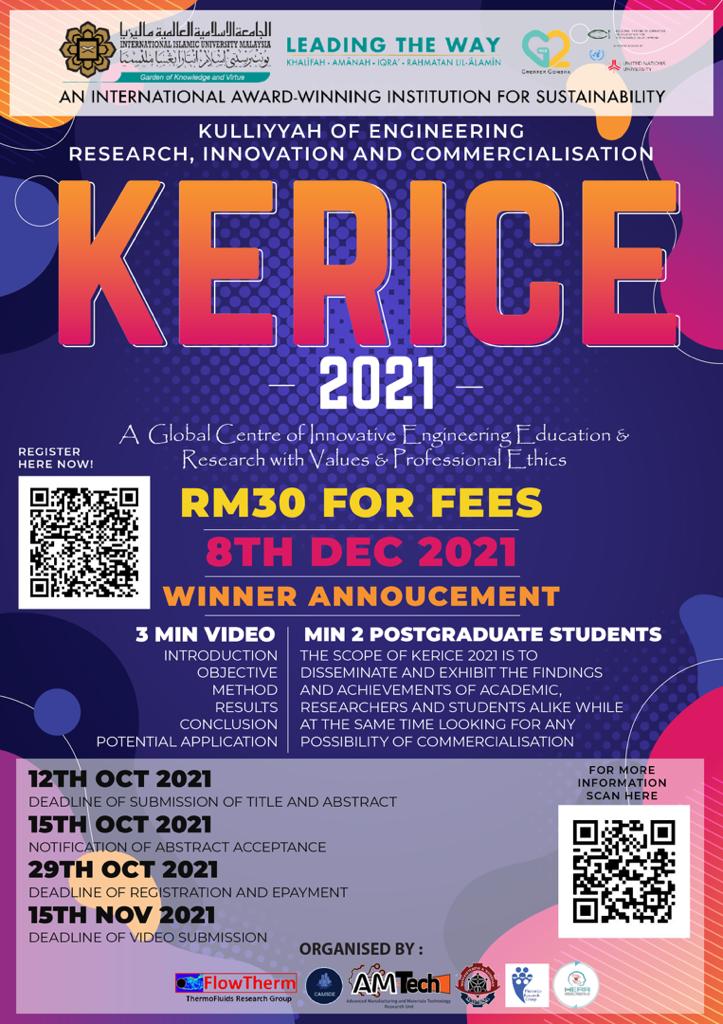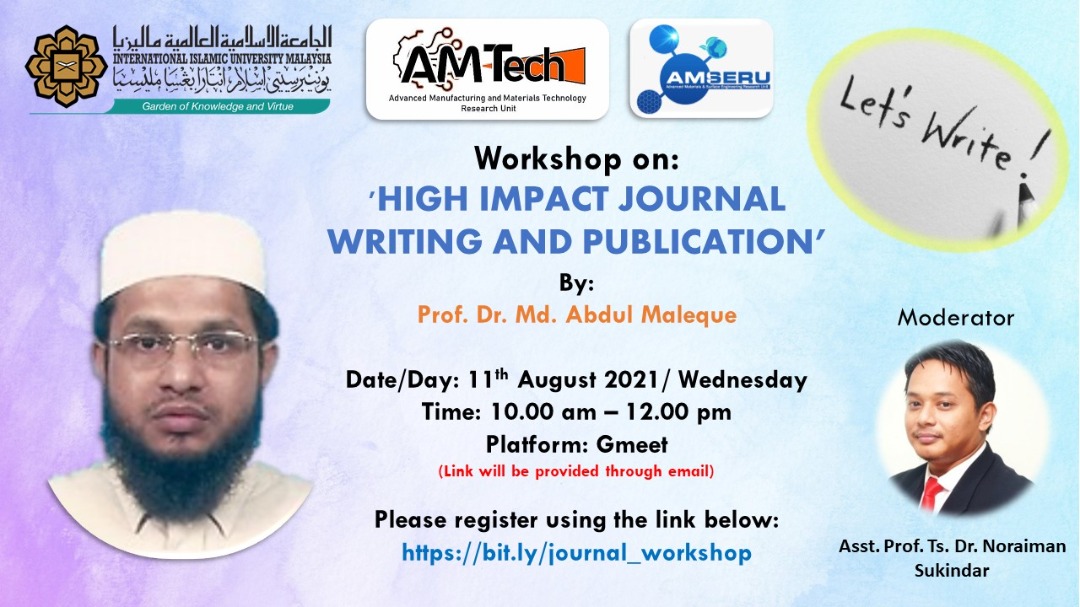 Please register using this link: https://bit.ly/journal_workshop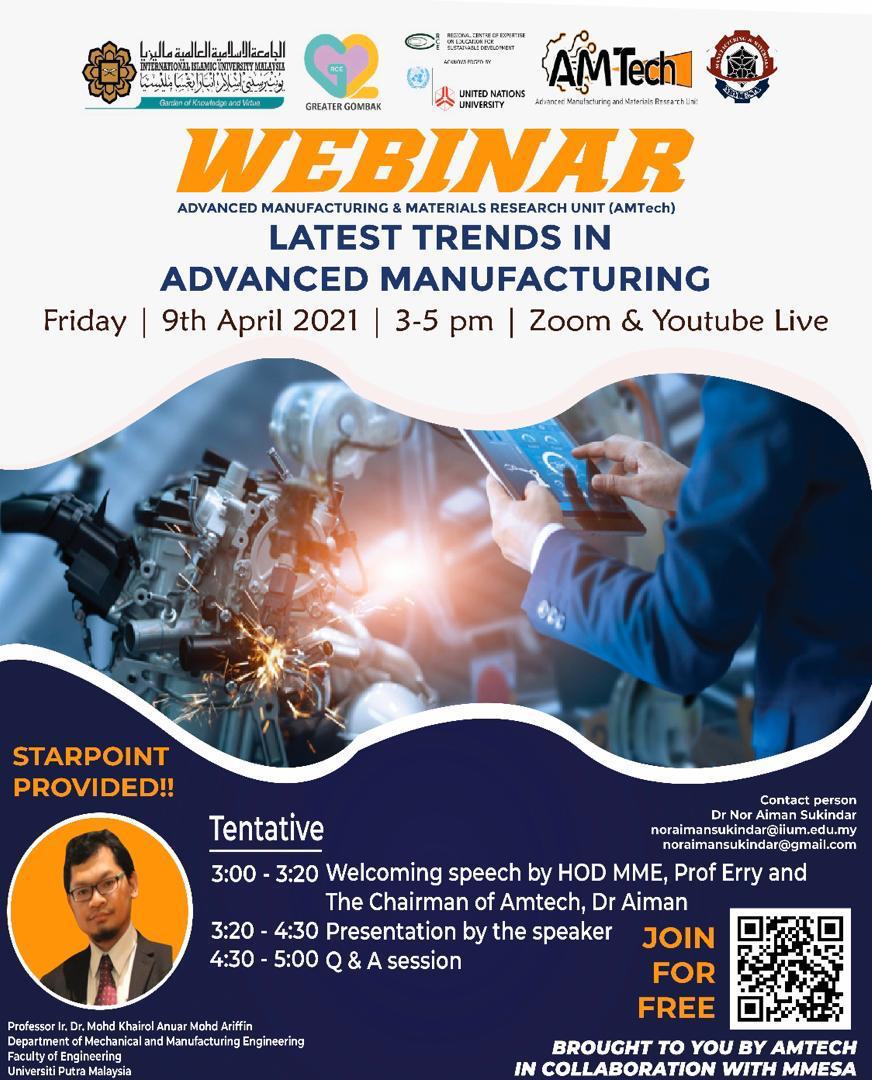 Webinar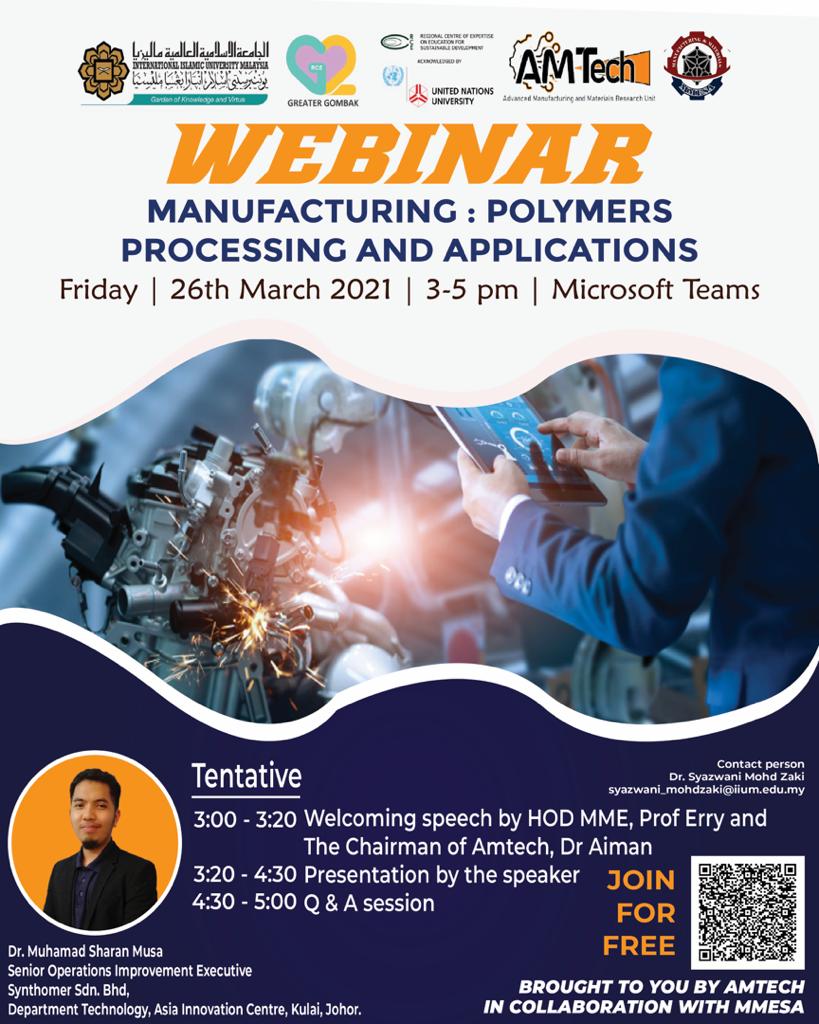 Webinar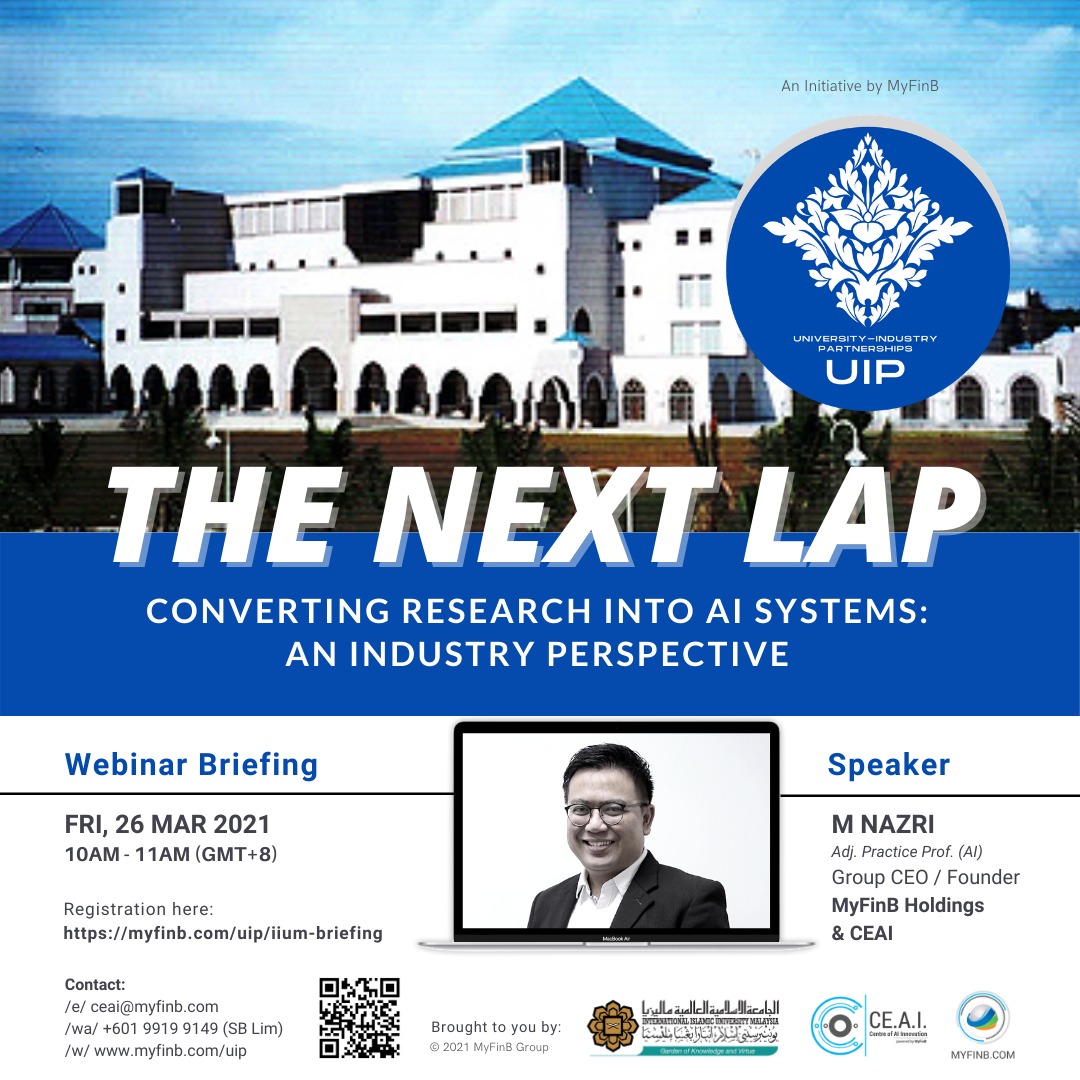 Webinar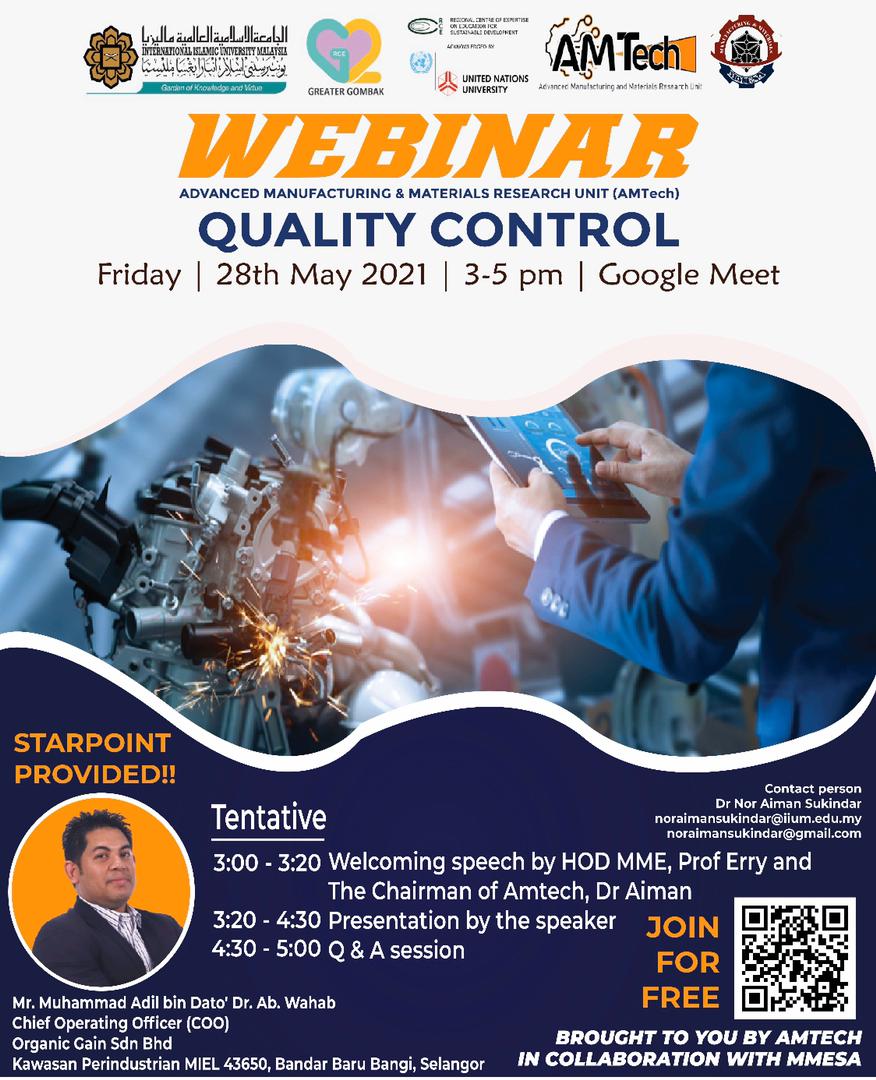 Webinar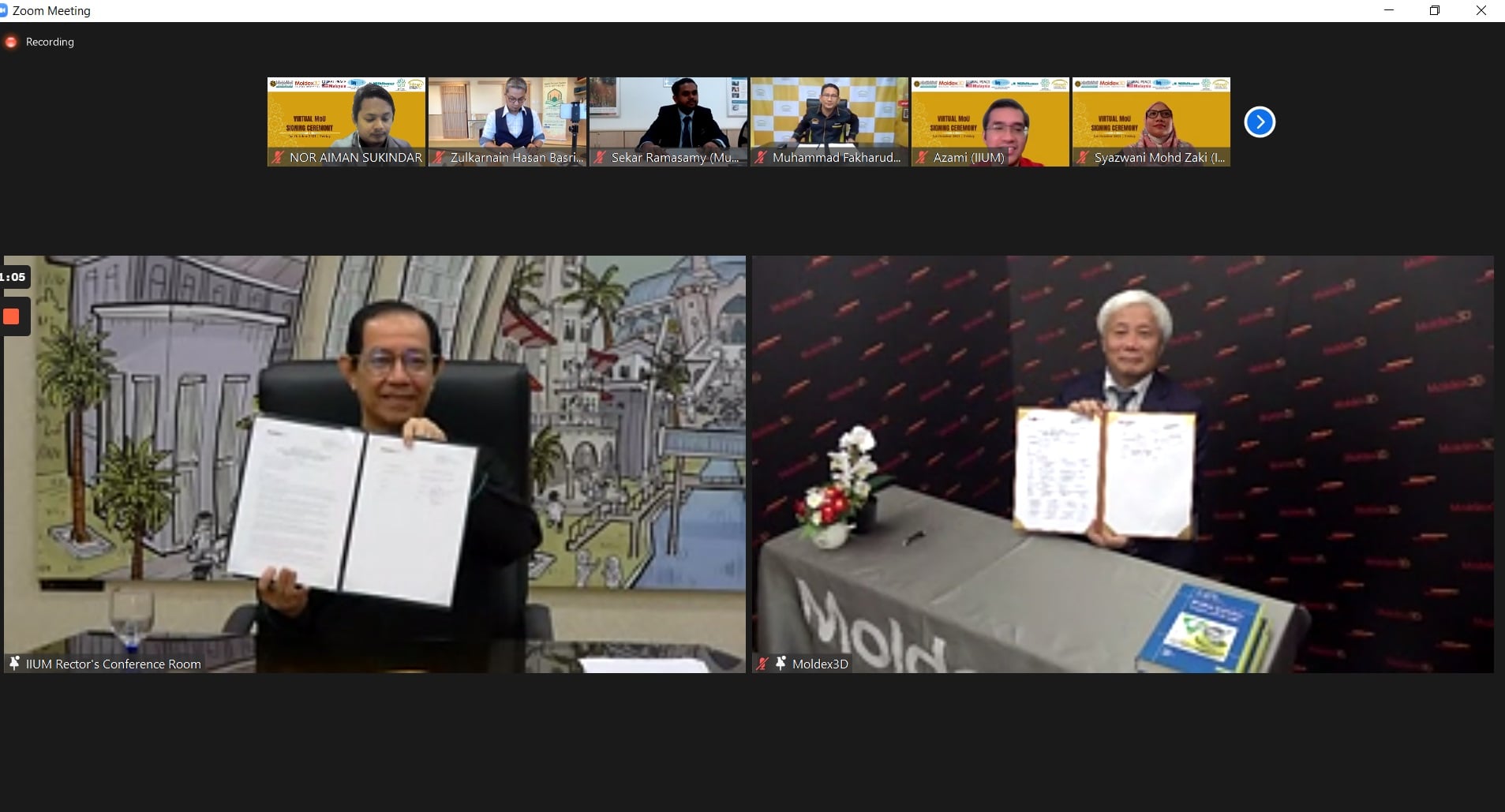 Collaboration between Advanced Manufacturing and Materials Technology Research Unit (AMTech) and Coretech System Co. Ltd.
Virtual MoU Signing Ceremony with Coretech System Co. Ltd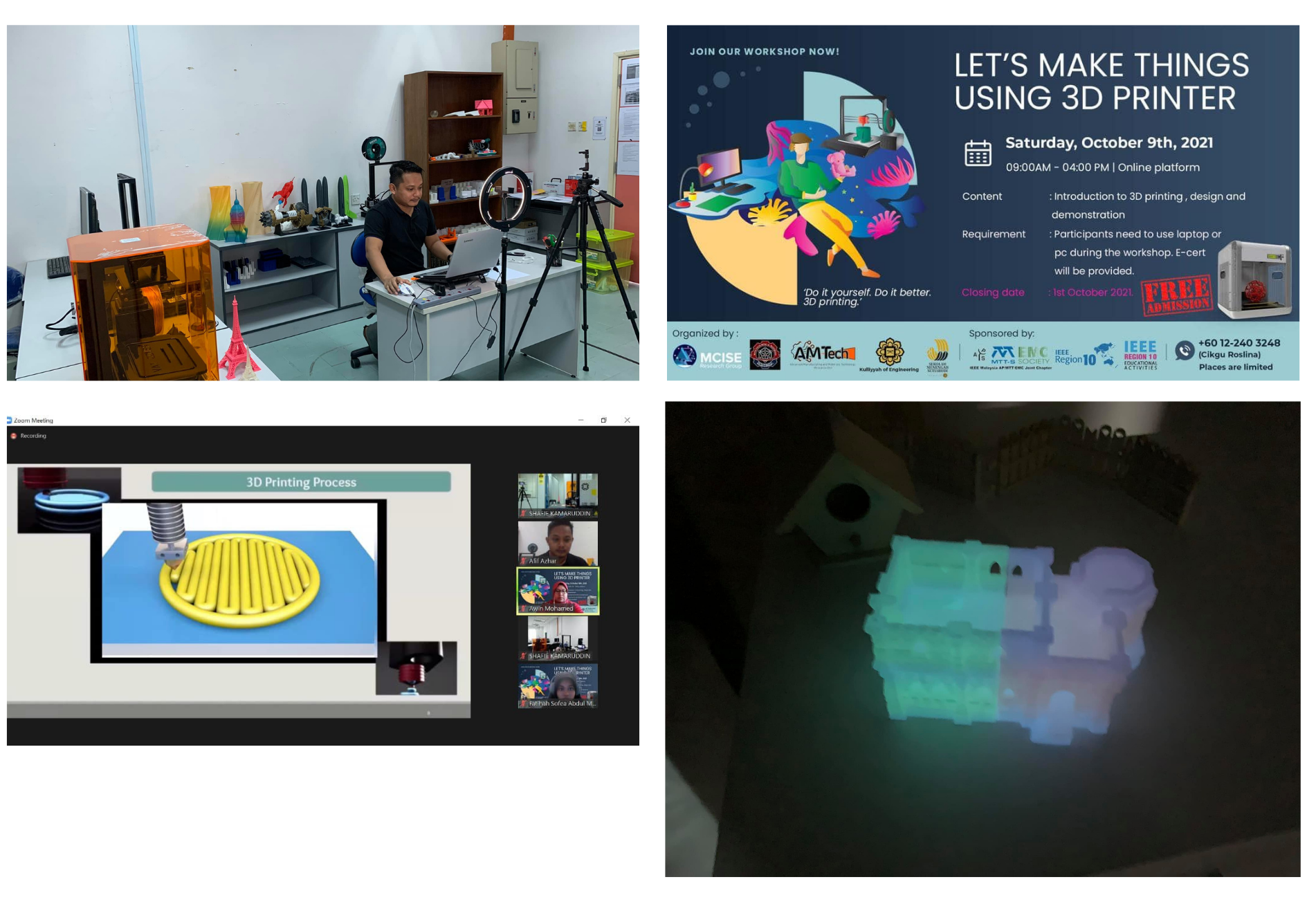 3D Printing Workshop with Sekolah Setia Budi, Gombak in collab with AMTech Research Unit , MCISE & MMESA.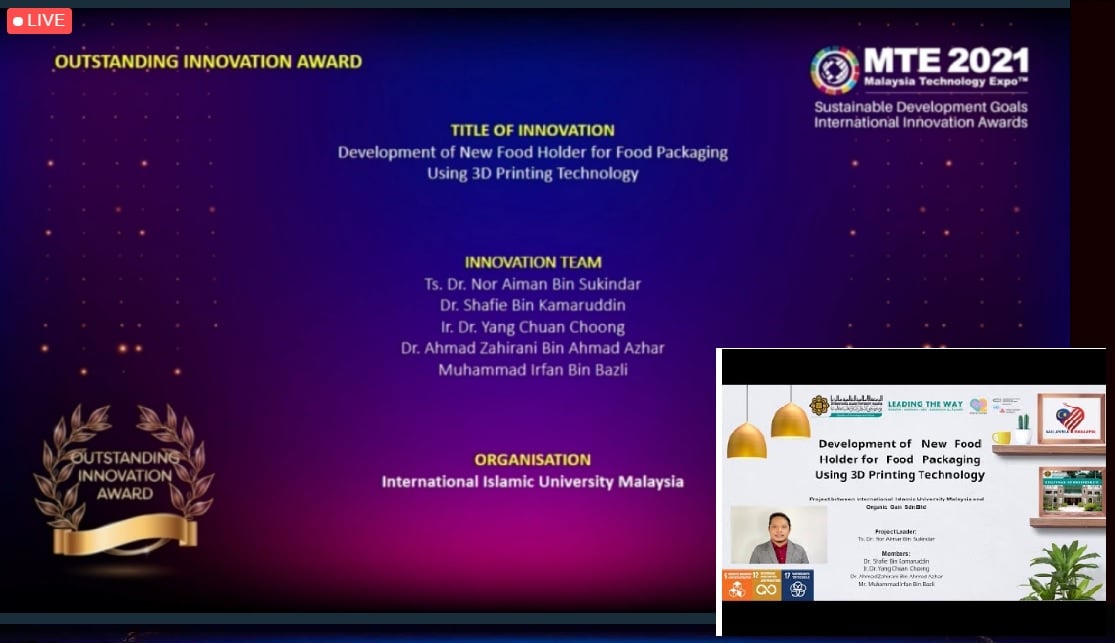 AMTech participated in MTE 2021: SDG International Innovation Awards
Title: Development of New Food Holder for Food Packaging
Using 3D Printing Technology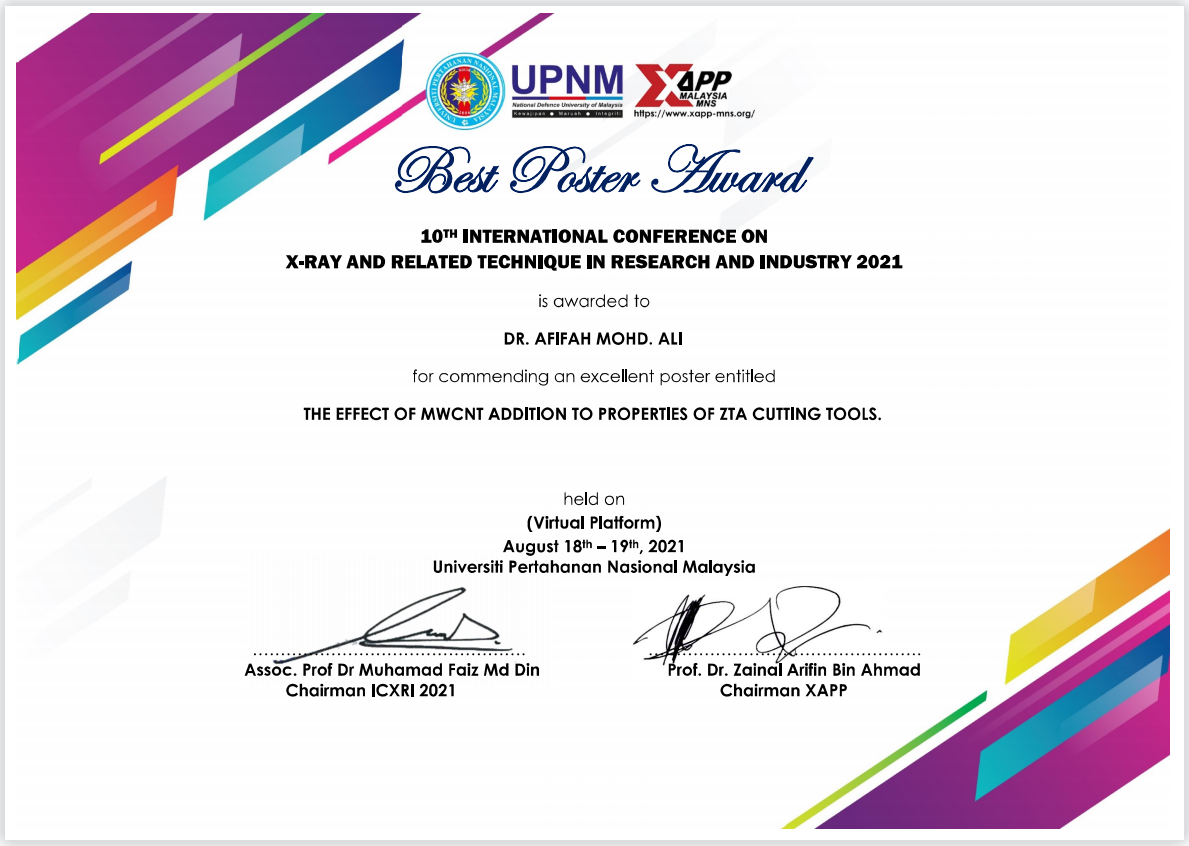 Congratulation to Dr. Afifah Mohd Ali for winning the Best Poster Award in the 10th International Conference On X-Ray and Related Technique in Research and Industry 2021.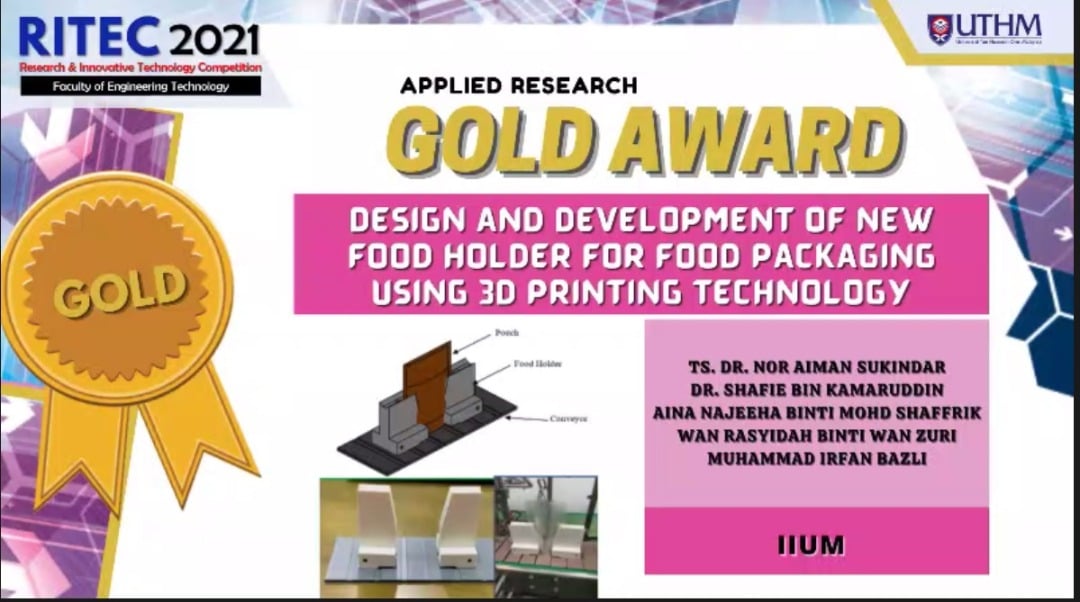 AMTech has participated in RESEARCH AND INNOVATIVE TECHNOLOGY COMPETITION (RITEC) 2021, UTHM
Result:
Applied Research: Gold
Fundamental Research: Silver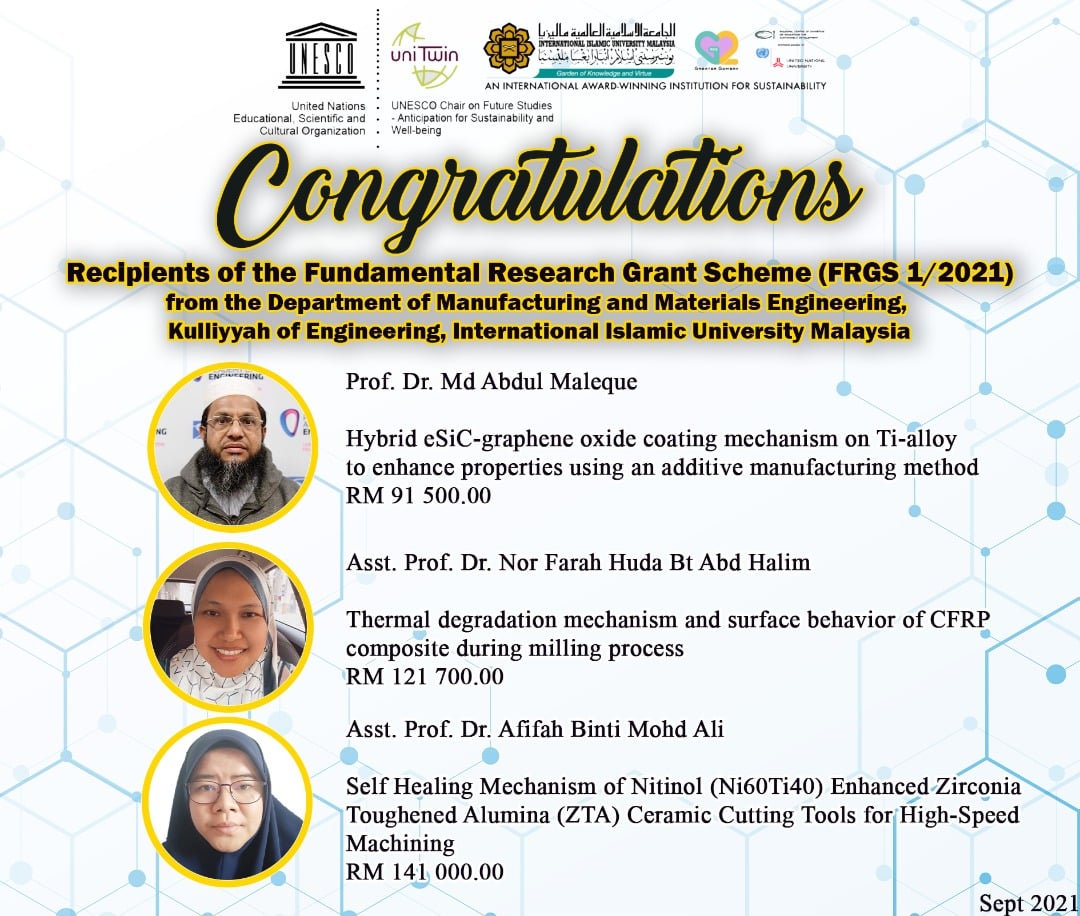 Congratulation to Prof. Dr. Md. Abdul Maleque, Dr. Nor Farah Huda and Dr. Afifah for receiving the FRGS 2021 Grant with a total of RM 354,200.
May this grant bring advancement in the research for Ummah and inspire others.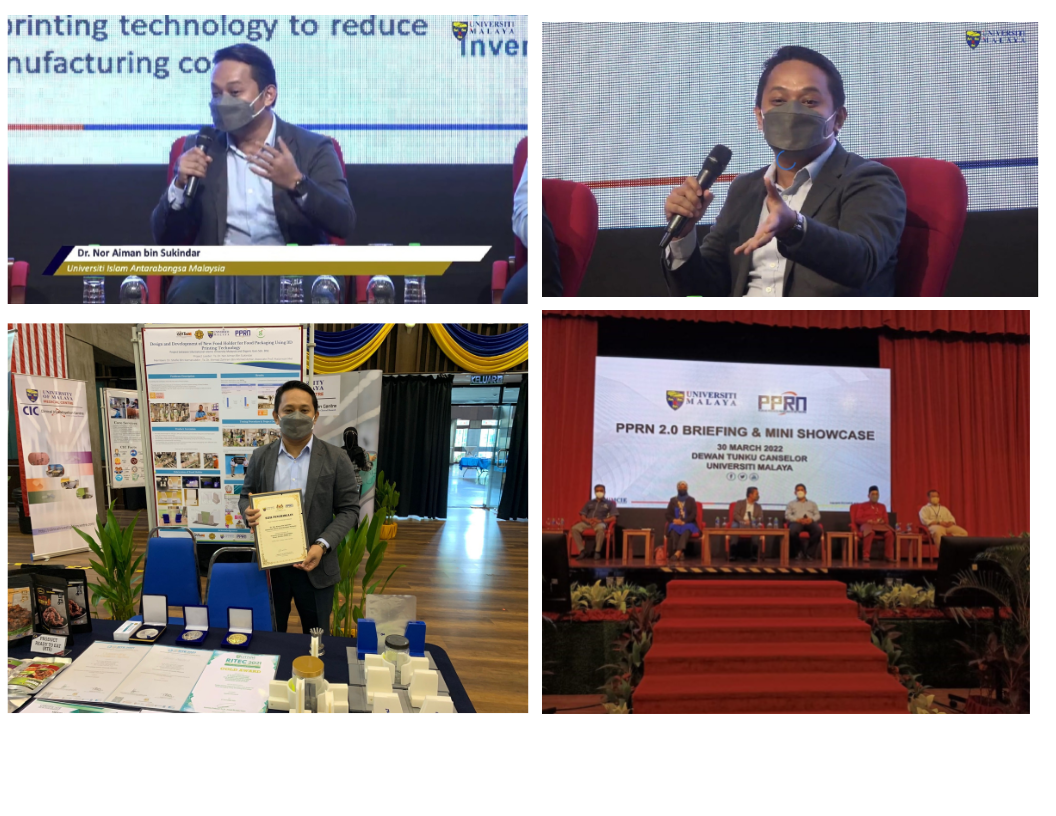 JEMPUTAN SEBAGAI PANEL FORUM SEMPENA PROGRAM TAKLIMAT & MINI SHOWCASE PUBLIC-PRIVATE RESEARCH NETWORK 2.0 BAGI ZON TENGAH (PPRN 2.0@UM

Tarikh: 30 Mac 2022 (Rabu)
Masa: 11.00 pg – 12.30 tghr
Lokasi: Dewan Tunku Canselor Universiti Malaya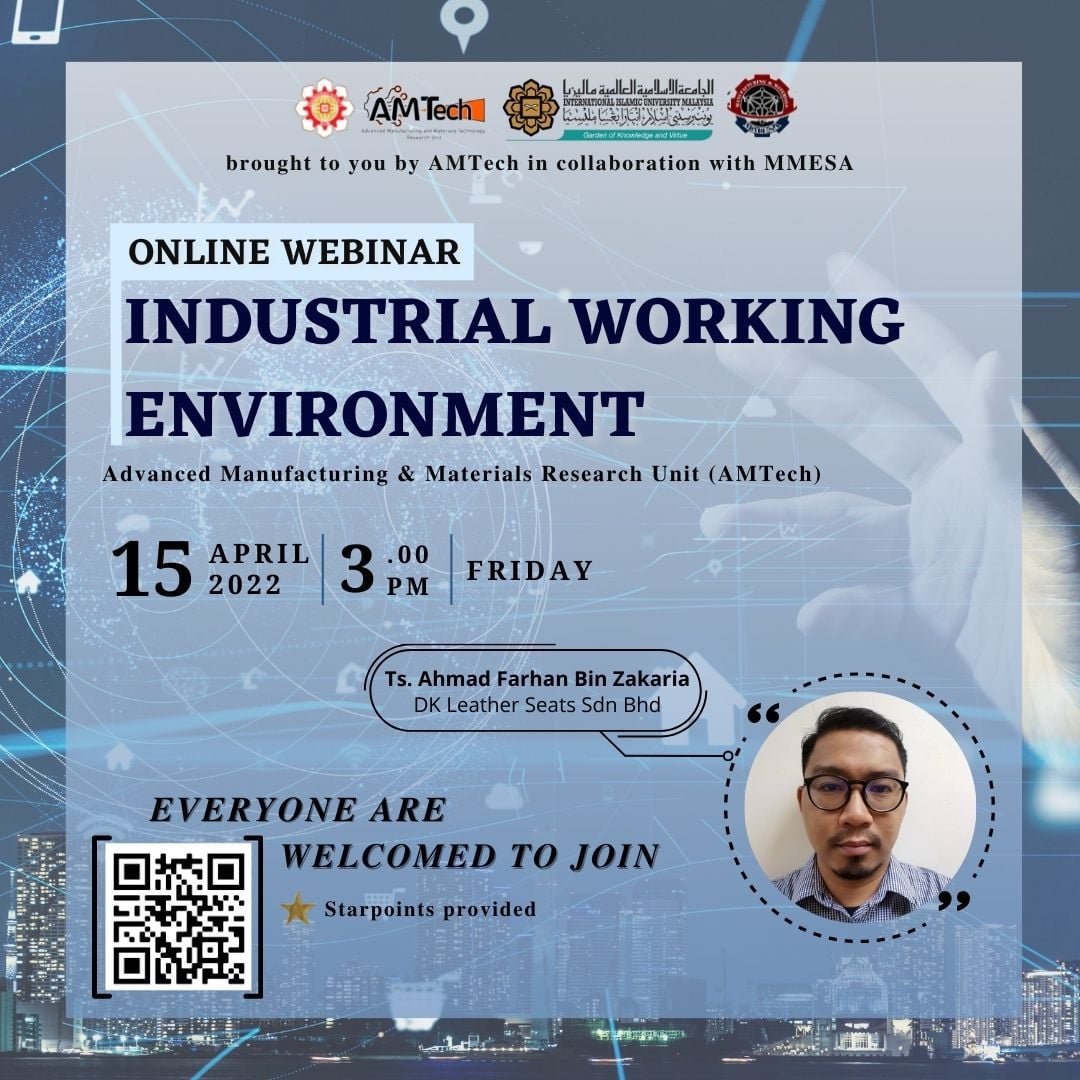 Sharing Session with Ts. Ahmad Farhan Bin Zakaria from DK Leather Seats Sdn Bhd.
Date/day: 15 April 2022 / Friday
Time: 3.00 pm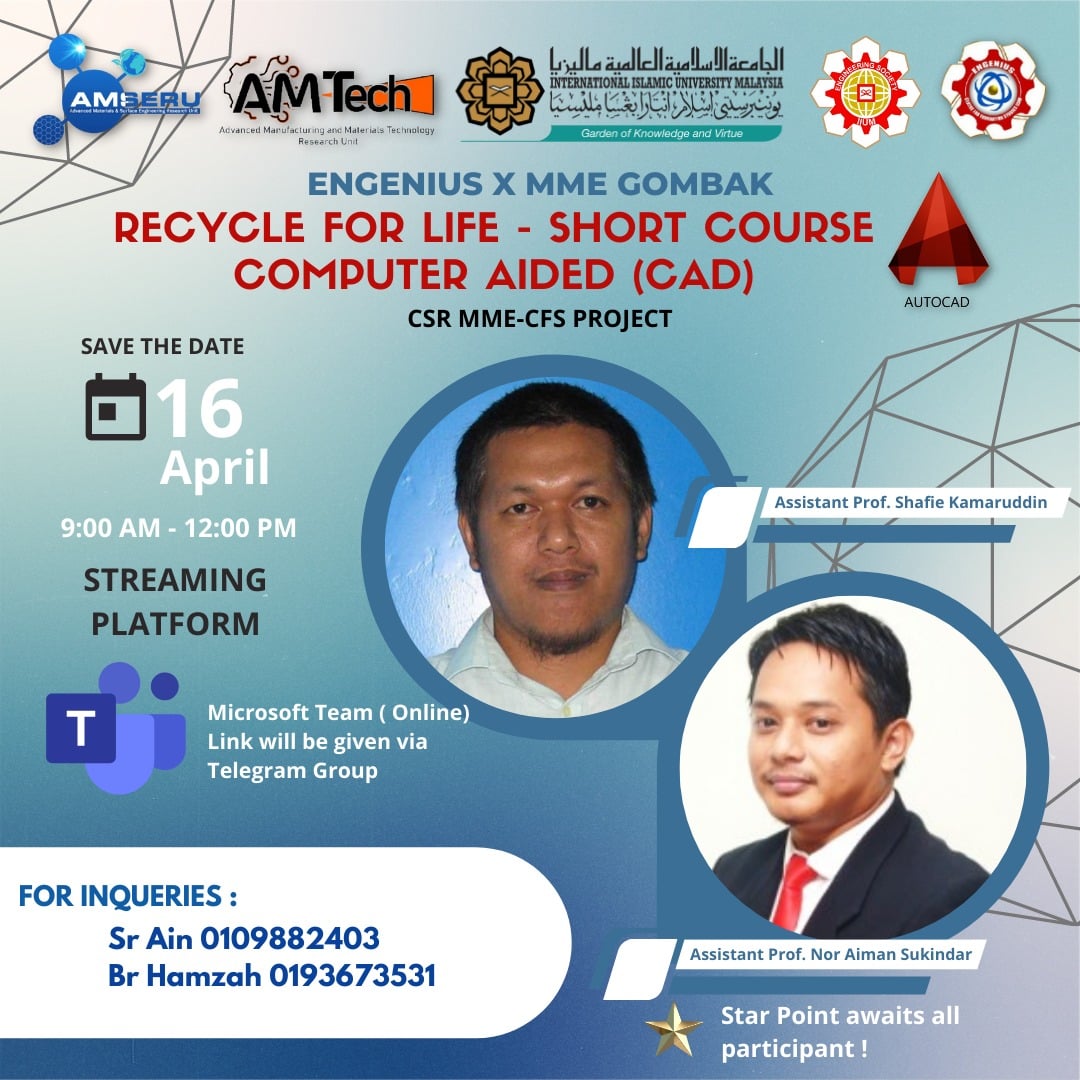 CSR Project between MME and CFS: Recycle for Life- Short Course Computer-Aided Design (CAD)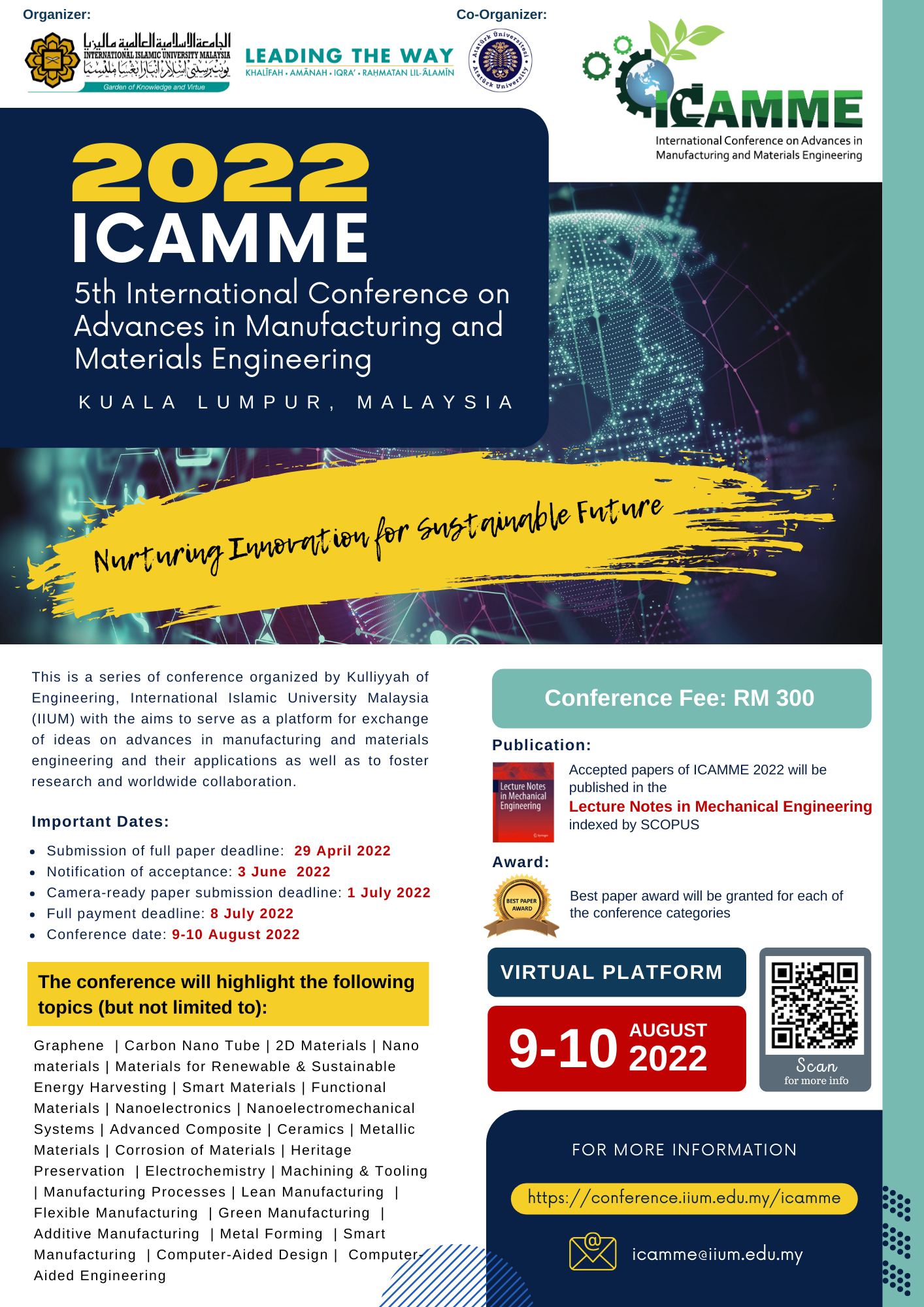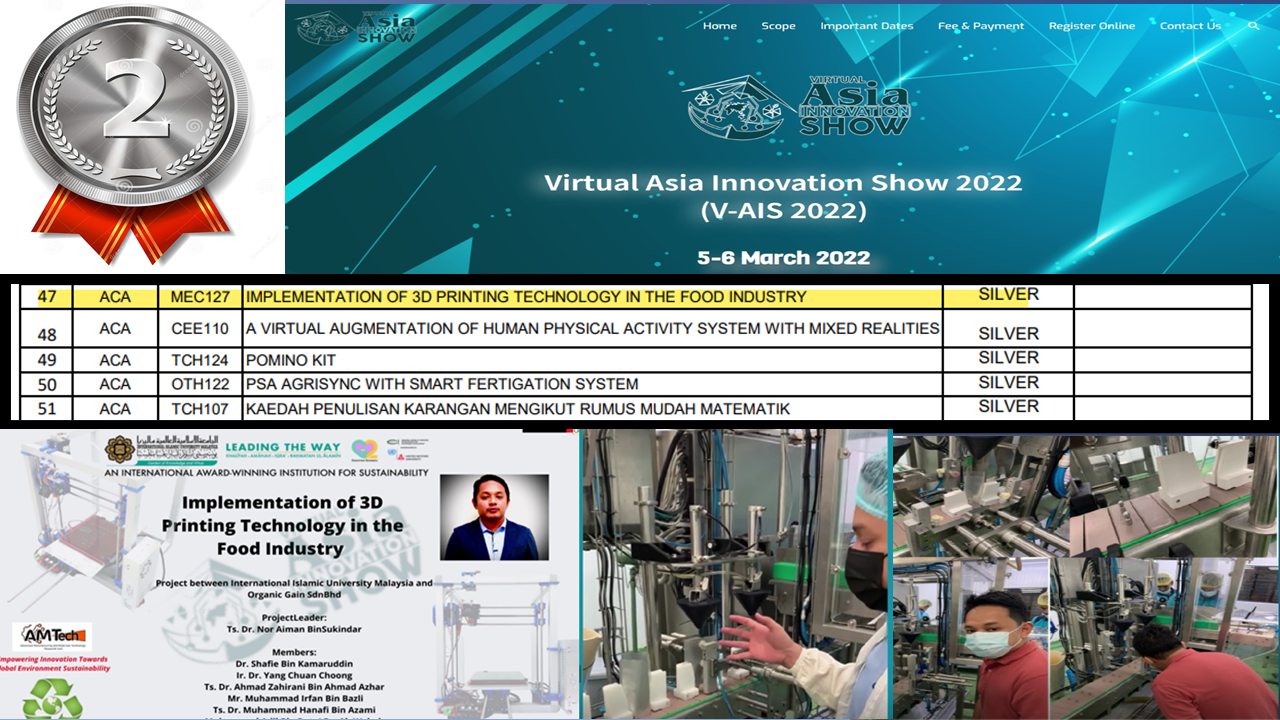 VIRTUAL ASIA INNOVATION SHOW (V-AIS) 2022 (5-6 March 2022) Result Achievements:
1. Silver: IMPLEMENTATION OF 3D PRINTING TECHNOLOGY IN THE FOOD INDUSTRY
2. Gold: 3D PRINTED SMOKEY SAM ROCKET STAR-X Congratulations to all.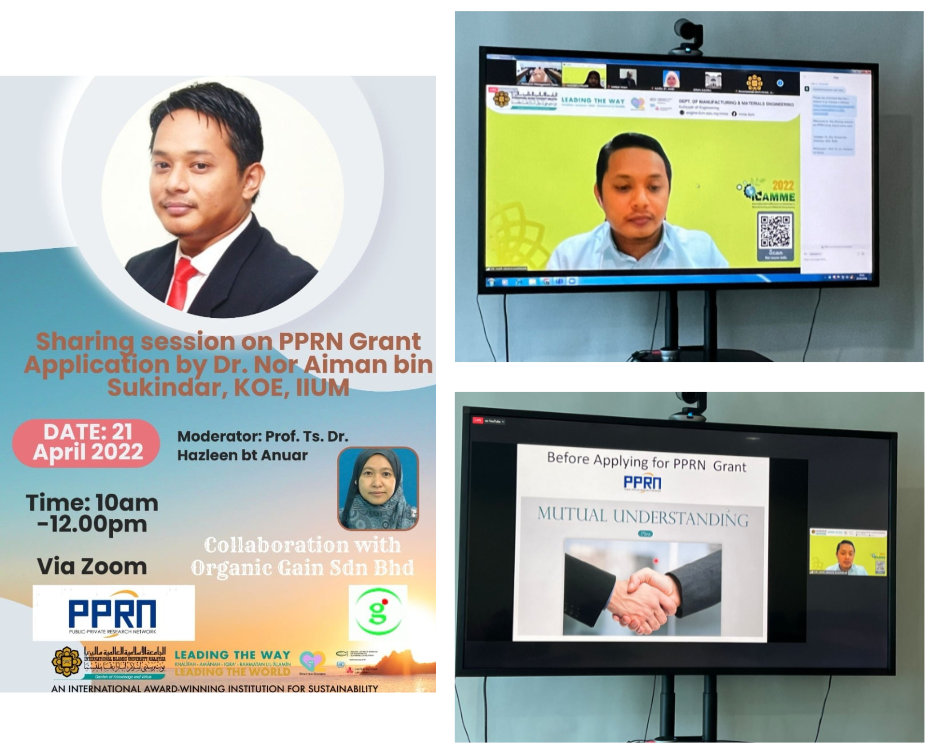 Sharing session on PPRN Grant Application. The details of the programme are as follows:
Speaker: Dr. Nor Aiman bin Sukindar, KOE, IIUM
Moderator : Prof. Ts. Dr. Hazleen bt Anuar
Date : 21st April 2022 (Thursday)
Time : 10.00 a.m. – 12.00 noon
Recorded video